Posts for: August, 2017
By Fulton Family Dental LTD.
August 30, 2017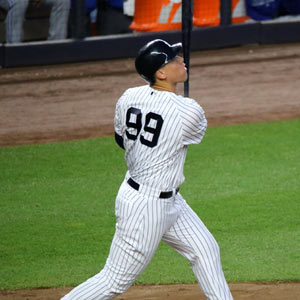 Major league baseball player Aaron Judge made news in July by breaking Joe DiMaggio's record for most home runs scored by a New York Yankees rookie. Then he made news again, this time for breaking something else. Following their game-winning home run against the Tampa Bay Rays in the 11th inning, the Yanks met for a spontaneous victory celebration at home plate. It was all fun and games… until an errant helmet accidentally slammed into Judge's mouth, breaking off half his left front tooth. Ouch!
Even if you're not playing big-league baseball, accidents sometimes happen. So what's the best dental treatment if you chip or break a tooth? It all depends on how much is broken off.
When a tooth has a small chip in it, dental bonding may be sufficient. Layering on tooth-colored bonding material results in a natural look, and it can be completed in one dental visit. However, bonding material in time will discolor, and it is not as strong as real tooth structure, so eventually it may need re-treatment.
Dental veneers or crowns may be used to restore more seriously damaged teeth. Veneers, thin porcelain shells that cover the front surface of teeth, can be used to restore minor to moderate chips. A crown ("cap") is used when the damage is greater and more structural support is required. A crown replaces the visible part of the tooth above the gum line.
When the soft pulp tissue inside the tooth is damaged, root canal treatment will be needed to save the tooth. Despite the outdated rumors some people have heard, root canal procedures don't cause pain — they actually relieve it. During the procedure, exposed or infected pulp is removed and the inside of the tooth is sealed. Then a lifelike crown is placed so the tooth looks as good as new.
If the tooth cannot be saved — for example, it breaks off below the gum line — a dental implant may be your best option. Dental implants are small titanium posts that are surgically inserted and then capped with an artificial crown. Implant-supported teeth can last a lifetime and are usually indistinguishable from natural teeth.
So what happened with Judge's tooth? Thanks to a Friday morning visit to the dentist, he was smiling again with a temporary crown — and smiling over the fact that his tooth garnered more attention than the Yankees' dramatic 11th inning win.
If you have questions about cosmetically-pleasing tooth restorations, please contact our office or schedule a consultation. (If you have a dental injury, call us immediately!) You can learn more in the Dear Doctor magazine articles "Dental Implants" and "A Step-by-Step Guide to Root Canal Treatment."
By Fulton Family Dental LTD.
August 15, 2017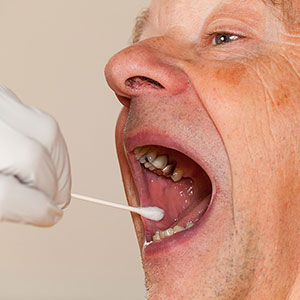 A half million people are diagnosed every year with oral cancer. While other cancers are more prevalent, oral cancer is among the most dangerous with only a fifty percent five-year survival rate.
A major reason for this low rate is because this fast growing cancer is difficult to detect early — diagnosis comes far too often after the disease has already well advanced. In an effort to detect cancer earlier many dentists visually screen for oral abnormalities during checkups, especially patients over fifty, tobacco or heavy alcohol users, patients with a family history of cancer or a medical history of exposure to the sexually transmitted human papilloma virus, HPV-16.
If they detect an abnormality, the dentist often refers the patient to an oral surgeon or other specialist for a possible biopsy. In this procedure the surgeon removes a sample of the abnormal tissue, which is then examined microscopically for cancer cells. A biopsy remains the most effective way to diagnose oral cancer.
Because of the disease's aggressive nature, many dentists lean to the side of caution when referring patients for biopsy. As a result 90% of oral biopsies reveal no cancer. Reducing the number of biopsy referrals is highly desirable, especially for the patient undergoing the procedure. Tissue samples tend to be large to ensure complete detection of any cancer cells. Depending on the size and location of the sample, there may be a risk for loss of function or disfigurement.
A new screening tool using a sample of a patient's saliva could help reduce the number of biopsy referrals. Besides DNA, saliva also contains dormant genes called biomarkers that activate in response to the presence of a specific disease. This particular saliva test identifies those biomarkers for oral cancer if they're present.
A sample with a low score of biomarkers indicates no cancer present (with a statistical confidence of 99%). A medium or high score indicates cancer may be present, but only a biopsy can determine for sure. Using this test, dentists might be able to reduce the number of biopsy referrals and instead be able to employ watchful waiting in certain cases. Because of its simplicity and non-invasiveness, saliva screening could help identify oral cancer earlier.
If you would like more information on early detection and treatment for oral cancer, please contact us or schedule an appointment for a consultation.